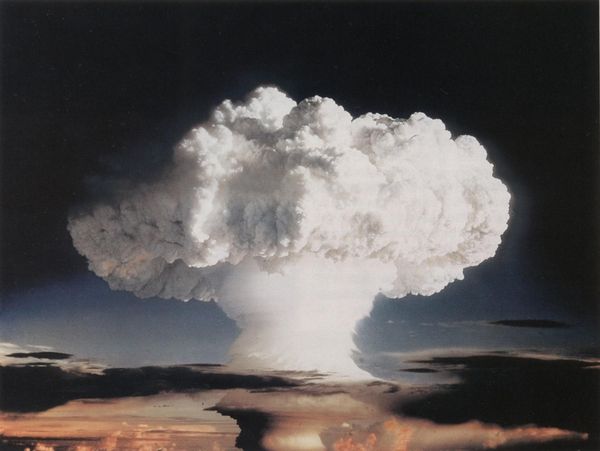 A few weeks ago I had a dream where I saw people getting saved and a military plane fly overhead. It dropped a hydrogen bomb marked NUMBER 6 (man, world) into the ocean. 
No, this isn't WW3 - it's what The Lord is about to do with His Spirit in the earth. He's going to do something unparalleled and NEVER done before! 
Folks. 
Hydrogen bombs are STRONGER than atomic bombs and, unlike atomic bombs, have NEVER been used in war. 
A Hydrogen bomb is 1,000 times more powerful than atomic bombs. 
Hydrogen bombs have bigger explosions that cause much bigger shock waves, blast, heat, and radiation. 
More energy is released in a hydrogen bomb, and it would do much more damage wiping out entire modern cities. 
Hydrogen bombs gain their POWER through the FUSION of atoms. 
YES, FUSION!!!!! 
At belief from the heart we are FUSED to Heaven. We become born again, and forever fused to the HOLY SPIRIT! 
We are in a spiritual war for souls and end time kingdom advancement. And, The Father has planned a NEW thing and is about to DROP A HOLY SPIRIT HYDROGEN BOMB THAT WILL FUSE MANY TO HIMSELF! 
MANY WILL BE REBORN!!! 
MIRACLES WILL BE THE NORM! 
HIS POWER WILL SWEEP THE EARTH! 
Peeps. An explosion of a hydrogen bomb is CATACLYSMIC in nature. It is destructive, violent, widespread, and redemptive! 
Yes. The CONSUMING fire of God is coming. 
Get ready, it's gonna' get a bit bumpy as the enemy brings distraction .... but oh the coming power!